Other cases of food ultrasound test case
application of ultrasonic non-destructive inspection equipment for industrial
use, and tuna
 Photo is a device for industrial
ultrasonic nondestructive testing of Epoch1000i manufactured by Olympus.
Feature is the product of two-dimensional visual assessment is possible by
scanning sector of the Phased Array type. Development has been used in order to
be commercialized for the purpose of detecting the damage microstructure of
metal, metal to detect corruption of the aircraft as practical examples.
 The following photo has been conducted to
adjust the application experiment HS-1500 is left of the screen medical
ultrasound equipment, industrial equipment without the right acoustic lens, is
the situation under in preparation for observing the tuna now to 5MHz phased
array method of Epoch1000i manufactured by Olympus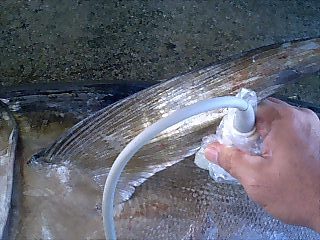 11工業用超音波非破壊検査装置の応用試験例英文hennkan.pdf